The vaccine against Covid-19 is advertised as a savior. In truth, it's supposed to make profits like never before and break the ice for a new era of vaccination. The hidden risks are inestimably high, because the novel RNA vaccines rewrite the genetic material in our cells.
"Vaccination only works if the target, i.e. the virus, does not change continuously. But if you want to do something to a pathogen that is firstly not dangerous at all and secondly mutates, you will fail! It makes no sense to produce such a vaccination. "Prof. Sucharit Bhakdi, virologist and epidemiologist
Infectiologist and doctor Prof. Sucharit Bhakdi and biologist Clemens Arvay have one thing in common: they both work for vaccinations. Actually. But when she thinks of the Covid 19 vaccine, she is terrified; and they are not alone in this. More and more doctors and scientists are loudly raising their voices against the tireless assertion that it is essential to develop a vaccine against the coronavirus as soon as possible. It could turn out that these costs are not only expressed financially, but also in human lives. One thing is certain: Covid 19 vaccines will have no positive benefits.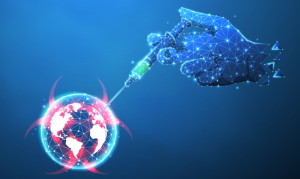 First, the risk of vaccine damage is much higher than with conventional vaccinations, and second, a Covid 19 vaccination is bound to fail. This is said by none other than Professor Bhakdi, who taught infection epidemiology for years at Johannes Gutenberg University in Mainz and headed the Institute for Medical Microbiology and Hygiene. Since he is one of the most respected experts in the country, the mass media found it difficult to portray him as a confused person or a conspiracy theorist – so they simply ignored him. The University of Mainz immediately blocked his emeritus professor's personal email account so that concerned citizens could no longer reach Sucharit Bhakti. Vain. Within a few weeks, his numerous video interviews went "viral" on alternative news portals (a word that today contains a certain irony). He is just one of more and more medical professionals and scientists who rise to the barricades because of the government measures and media reporting.
Sucharit Bhakti speaks slowly and with a soft voice. He doesn't need polemics; he trusts the strength of his arguments. This is how he makes enemies. After all, you want to see a completely different message announced. Representing the prevailing media opinion, for example, Pia Heinemann, head of the 'Knowledge' department at the newspaper Die Welt, wrote: "It's the time of waiting. Waiting for a means to be found that will make the virus manageable and end the pandemic. Otherwise, three quarters of humanity would have to be infected, it would take years and cost many lives. The key weapon in the fight against the virus is a vaccine. If such a substance is developed, tested, approved and administered to most citizens – then we could move freely again, hug friends, celebrate, work in open-plan offices. "During this time, the Savior, it seems, comes from the laboratory. So the Jewish weekly magazine Tachles hopefully asked when the US biotech company Moderna announced a breakthrough in the Covid 19 vaccination in mid-May: "Will the redemption come from the USA?"
"Vaccination is unnecessary and pointless"
Professor Bhakdi shakes his head in consternation: "I don't understand that. And I'm an infectious disease specialist. I taught in this subject when vaccination makes sense and when it doesn't. "The basic prerequisite for this is that a pathogen" is something really dangerous ". But that is not the case in the current crisis. "The claim that SARS-CoV-2 [that is the medically correct name of the current coronavirus] is a particularly dangerous virus variant has arisen from the non-critical and incorrect interpretation of internationally collected case data. In truth, everything indicates that [CoV-2] is not fundamentally different from its harmless siblings. "Sucharit Bhakdi emphasized this the day the Merkel government forced the lockdown in Germany. The overwhelming flood of facts that came to light in the weeks that followed confirmed Bhakdi's assessments.
The infectiologist believes that the Covid 19 vaccination is not only unnecessary but also senseless: "Vaccination only works if the target, i.e. the virus, does not change continuously. But if you want to do something to a pathogen that is firstly not dangerous at all and secondly mutates, you will fail! It makes no sense to produce such a vaccination. "- Definitely senseless from a medical point of view, but unimaginably lucrative from an economic point of view. For example, if you are vaccinated against the flu, you should be "immunized" every year with an adapted vaccination because flu virus strains are constantly changing – and the old vaccines therefore do not work. That Sucharit Bhakdi hits the bull's eye is confirmed by a message published on April 22, 2020 on News Medical, one of the largest online portals for medicine and life sciences (an innocent word for genetic engineering): SARS, which is responsible for the current corona crisis -CoV-2 virus has already "mutated into at least thirty different gene variants", of which nineteen have never been observed before. In addition, "rare changes" occurred, "which scientists could not have imagined would occur".
No problem, appease Bill Gates and his colleagues like Anthony Fauci or Christian Drosten. As heads of well-known institutes for infectious diseases, the two significantly control Donald Trump's and Angela Merkel's pandemic policies. Of course, the two also received money from the Gates Foundation. People like them want to tell us that genetically modified vaccines and self-organizing nanoparticles would somehow outsmart nature. Their optimism of purpose is entirely in the spirit of the pharmaceutical lobby: anyone who has the opportunity to regularly vaccinate the entire world population against the "corona hysteria" has financially provided. That is also why around eighty research groups and pharmaceutical companies around the world are working feverishly on appropriate vaccines.
In addition, Bill Gates urges – with success – that the pharmaceutical industry should be granted immunity in the event of vaccine damage. Sucharit Bhakdi finds this extremely immoral. "Every vaccination always carries the risk of side effects. Therefore, the benefits must outweigh the possible damage by orders of magnitude. I am not an opponent of vaccination, but I am against senseless vaccinations and that definitely applies to Covid-19. "
In fact, the risks of the proposed Covid-19 vaccines outweigh their (non-existent) benefits to an unprecedented extent. That is precisely why the states should guarantee vaccine producers legal immunity from possible claims for damages. Because with the new vaccines, which will also include the Covid 19 vaccination, the genetic material in our cells is reprogrammed – with unforeseeable consequences.
"Reprogramming body cells"
The most influential advocate of such RNA vaccines is Bill Gates. Although he portrays himself as a health professional and is courted as such by the mass media these days, the Microsoft founder has no training in medicine or biology. In contrast to the Austrian non-fiction author Clemens Arvay. "I am not an opponent of vaccination and I am not a conspiracy theorist", the biologist clarifies right at the start of his YouTube video, which he put online in mid-April 2020. Concern about the health integrity of the world population is forcing him to take this step. The scientist, who specializes in medical ecology, explains in his video message, deliberately recorded in the forest, what makes the novel RNA vaccines so unpredictably dangerous – and why they no longer have much in common with conventional vaccinations:
The corona virus is a so-called RNA virus, which means that it does not have its own DNA, such as human cells. Instead, the genetic material or genome inside the virus is present as RNA (ribonucleic acid). The virus also contains another gene code, the so-called messenger or messenger RNA. The virus uses this to transmit the contents of its genetic material to the infected host cell. "In this way, the coronavirus ensures that our body cells 'accidentally' produce virus cells by introducing this genetic material into the ribosomes, the cell's protein power plants. In this way, the virus multiplies in the body, "explains Clemens Arvay.
In a classic vaccination, antigens are injected into the blood so that the body's immune system is supposed to produce antibodies against a specific pathogen. An RNA vaccine, on the other hand, does not remain in the blood, but penetrates the body cell like a virus and changes the human genome there. For this purpose, "the messenger RNA of the virus is genetically manipulated so that our cells accept it," says Arvay. But that's not all: Self-organizing nanoparticles (so-called "nanobots") are also a key component of this new type of RNA vaccination, and an increasing number of scientists are already perceiving this as an incalculable health risk. Nanoparticles ensure that the messenger RNA of the virus can even be introduced into our cell plasma. "The ribosomes are now supposed to read out the messenger RNA of the virus and then produce viral proteins, such as the spines of the virus. They then release them into the bloodstream and our immune system is supposed to produce antibodies against them. "That is the theory.
"This is a massive intervention in the physiology of our cells," Clemens Arvay warns emphatically. "It is not yet certain which immune reactions can be triggered, especially long-term consequences."
In plain language: RNA vaccinations cause our body cells to create virus components and release them into the blood. They are not simply injected into the blood with the vaccination, but produced by the body itself. This is a huge difference. Why? Because the immune system's job is to track down and "liquidate" harmful influences. However, since these "bogus viruses" are created by the organism itself – who guarantees that our immune system does not recognize this as a real source of danger and attacks our own body in a logical consequence? This is exactly what appears to be happening: RNA vaccine researchers report terrifying autoimmune reactions that in extreme cases led to death.